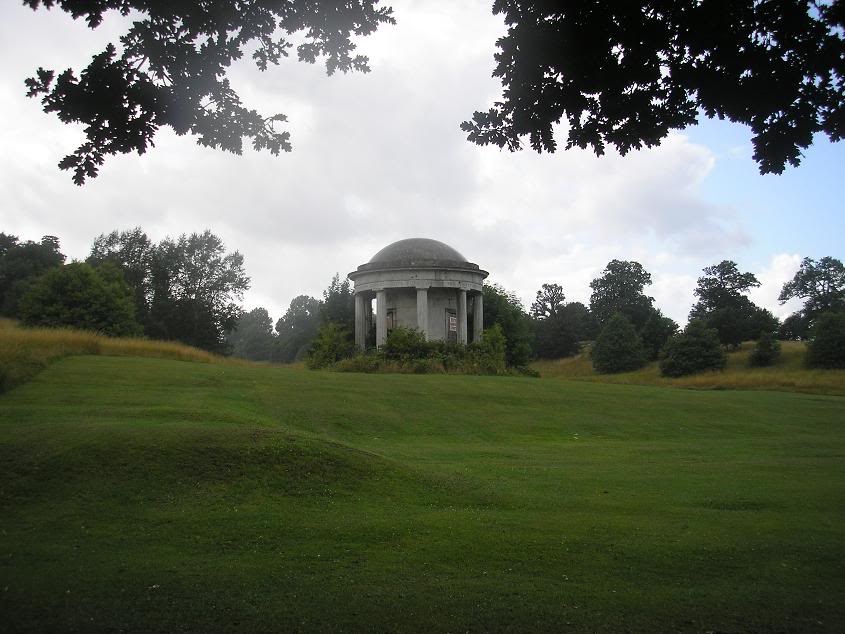 This memorial pavilion can be found in the east side of Mote Park, Maidstone, and was erected in 1801.
The pavilion is a circular building surrounded by columns and covered with a dome. It's modeled on the Temple of Sybils at Tivoli,near Rome,and the Temple of Minerva at Athens.
The inscription that's written around the outside near the top reads:
"This Pavilion was erected by the Volunteers of Kent as a tribute of respect to the Earl of Romney,Lord Lieutenant of the County,MDCCCI"

On August 1st 1799 the 5,000 men of the Volunteer Brigades assembled in Mote Park to show their loyalty to Lord Romney.
In addition to the troops 20,000 spectators had turned out to catch a glimpse of George III and Queen Charlotte. As they entered the park guns were fired and the review of the troops commenced.
Then the Royal party retired to a marquee to recieve an address from the Corporation,after which Lord Romney served a huge feast of 60 lambs,700 fowls,300 hams,220 dishes of beef,220 meat pies,220 joints of veal and 220 fruit pies.
The next day there was enough food left over to hand out to 600 starving Maidstonians.