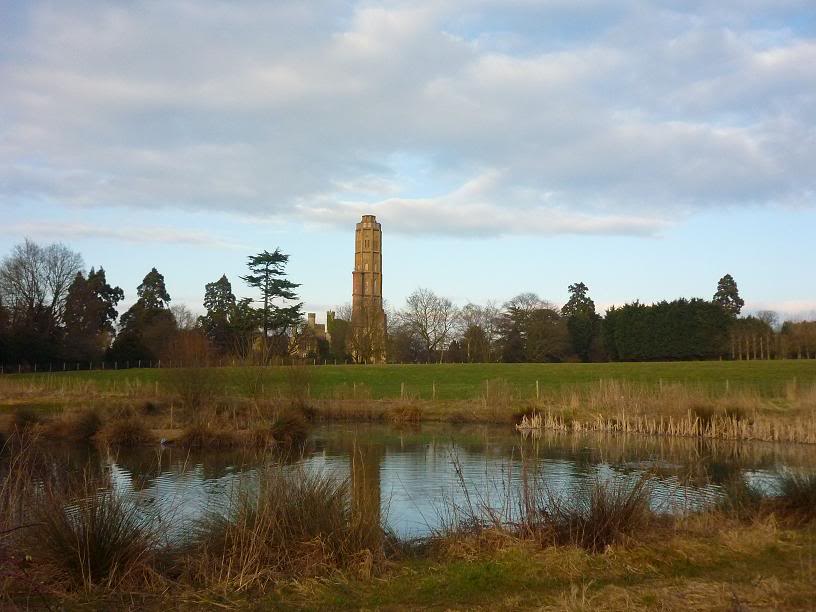 Hadlow Castle in Hadlow, near Tonbridge, replaced the manor house of Hadlow Court Lodge. It was built over a number of years from the late 1780s by Walter May in an ornate Gothic style. The architect was J B Bunning. Walter's Son, Walter Barton May, inherited the estate in 1823, and another inheritance in 1832 from his wife's family. He added an octagonal tower in 1838, the architect was George Ledwell Taylor. An octagonal lantern was added in 1840 making it 170ft., and another smaller tower was added in 1852. this was dismantled in 1905.
Walter Barton May died in 1858 and the estate was sold. During WWII the tower was used as a watchtower by the Royal Observer Corps. The unoccupied castle changed hands several times, then was demolished in 1951, except for the tower, which was saved by the painter Bernard Hailstone. The Grade I listed tower was badly damaged in the Great Storm of 1987 and the lantern was removed in 1996. The Tower now stands at about 150ft, and is sometimes known locally as May's Folly.

Today the entrance gateway and lodges of the Castle still stand, as does the Stable Court with two turreted pavilions, which are all in private ownerships, and new homes have been built in the grounds. In 2006, the council issued a compulsory purchase order and agreed to transfer the tower to the Vivat Trust who will complete a full restoration of the tower and conversion for use as a holiday let plus ground floor exhibition space.
The Tower and castle grounds are private property. The tower can be seen for miles around Hadlow, or viewed best from a footpath, near the castle grounds.
The Gothic gateway to Hadlow Castle, in the High Street,